Sep

06
Tags
Related Posts
Share This
How to Make Money With a Dump Truck
If you're looking to make money with a dump truck, building contractors, landscaping companies and homeowners are your target clients. Get a commercial driver's license (CDL), set up your business and spread the word.
1
Prepare for business. Get your CDL, which will enable you to legally operate a dump truck. Check your local ordinances for any additional training or licensing requirements for operating an independent dump truck business before you can begin to solicit jobs.
Contact the IRS to obtain a tax ID number for your business and open a business bank account. Have business cards and letterhead printed for your company that you can mail or leave with building contractors, landscape supply managers and homeowners. You will make a more professional impression if you leave your contacts with relevant pricing and contact information, along with a copy of your credentials. Better business impressions translate into more money for your business.
2
Contact landscape suppliers in your area, advising them that you are available to move dirt, mulch and other landscaping materials on a contract basis. Talk to the store managers in person, leaving them a packet with your business card, rate information and certification documents for owning and operating the dump truck.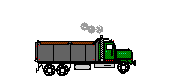 3
Run an ad in several local papers and in the yellow pages describing the types of work you are available to do with your dump truck. Homeowners who enjoy do-it-yourself landscaping or renovation projects need your services to haul in or remove materials as they excavate or remodel. Advertise on Craigslist and other online sources for free exposure.
4
Make money with your dump truck by working with local builders as an independent contractor. New construction projects always need the services of a dump truck to move debris to the landfill as well as moving dirt and other landscaping materials. Contact the builders personally by phone or at a job site. Follow up with the same printed materials you left with the landscape supplier.
5
Contact your local city transportation services to inquire about winter snow removal jobs or other contract positions it may have available. You can also contact other snow removal companies to let them know you're available for their overflow.
---
LOAD BOARD FEATURES

Post, Search & Bid on UNLIMITED truck loads
Over 30,000 new loads NO DUPLICATES. Sort by combination of weight, trailer, radius & multiple destinations. Easy to use!
Owner Operator & Truck Driver Search
Great for Shippers & Brokers! Search Drivers by trailer type and any location. Get Freight Quotes directly from drivers by email.
No Contract Month-to-Month Billing
We have 100% no questions asked Money Back Guarantee policy. You can cancel and renew your membership at anytime.
Mileage & Routing Directions
Calculate dead head miles and total miles of trips. Intergrated Map with US Highways and dirving directions from pickup to deivery.
Credit Score Reports & Factoring
Freight Broker credit score search. Invoice matched with Freight Factoring companies.
Dead Head Mileage Calculator
Calculate dead head miles between trips. Radius search for loads within dead head mile limit.
Bookmark, Notes and Favorites
Easily manage your dispatching services with Bookmarking important shippers or drivers, with custom notes.
Load & Driver Email Notifications
Receive email or SMS alerts of loads or owner operations that match your posted loads or trailer types.
Auto Match Loads & Drivers
After you post your Open Truck or Open Load on the load board you will automatically be matached with drivers or shippers.
Send Load Details to Phone SMS Message
Great for dispatchers! allows for drivers to get info while driving and not stop on the raod. Easy to call back from phone.
Daily Fuel Prices & Locations
Daily current diesel fuel prices at all major truck stop locations.
Upload Forms: Cargo Insurance, W-9, & Permits
Great for dispatching! have all your driver's paperwork ready in one location. Documents can be faxed or uploaded as files.
How To Videos Guides
Step by step video tutorials on how to use all the features of the admin to find loads, find drivers and other resources.
Weather & Road Conditions
Live weather forcast from pickup location and destination. View Current and weekly forecast.